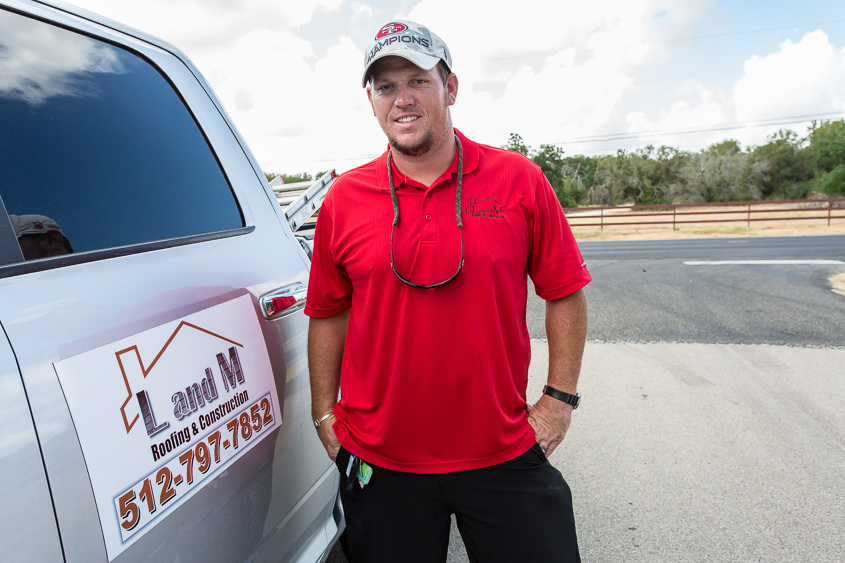 Frequently Asked Questions (FAQ's)
Should I have you present when the Insurance Adjuster is here?
It is always in your best interest to have a trusted, reliable contractor present when the insurance company's adjuster comes to inspect your residence or business.  The simple fact is that the adjuster does not work for you or represent you, they work for the insurance company.  We are happy to meet with your adjuster at NO cost to you.  The Texas State Board of Insurance recommends you have a contractor present when the insurance adjuster inspects your property.
Do you have your own crew(s) or do you hire day laborers?
We do have our own crews who works for us whether it is installing a roof, doing interior work, or building a deck.  We never use day laborers or temporary workers.
Are you insured?
Yes, we carry a $2,000,000 general liability policy through AmTrust International Insurance.
What is your warranty on labor? On Materials?
Our standard warranty for roof replacement labor is five (5) years and the product warranty varies according to the manufacturer's warranty.  For example, GAF Royal Sovereign shingles carry a twenty-five (25) year warranty against product defect.  As a Certified Installer for GAF, we can also offer additional warranties such as the System Plus Warranty and only 6% of roofers nationwide are certified by GAF.
Our warranties are some of the best in the business but varies according to the type of work done.  Please contact us for specific warranty information regarding the type of work you need completed.
Do I pay anything before residential roof replacement work begins?
Not at all.  Our standard for a non-insurance related residential roof replacement is to collect half payment on day of roof install and the other half upon completion of the work.
The standard for insurance related residential roof replacement is to collect the deductible and amount of first insurance check on day of roof install and then to pick up the check for the remaining balance upon issuance and receipt of payment from insurance company.
How long will it take to install my roof?
Typical residential shingle roofs are usually completed in one (1) day, occasionally on larger roofs, we need a second day to finish.  Residential roofs with other types of material such as tile, metal, and the like will require additional days for completion.  For commercial projects, the number of days can vary dramatically depending upon the size and type of the roof(s).
Will you work with my insurance company or will I?
We are specialists in working with your insurance adjuster, company and agent.  We are more than happy to work with your insurance company to make sure all necessary repairs are covered in full.
When will my roofing materials be delivered?
Typically we deliver roofing supplies the day before installation begins.  For some jobs, depending upon access and material supplier, we load the materials on the roof and for others we drop load the material in the driveway. We will coordinate with you on material delivery and placement.
Is there anything I should do on the day of my roof installation?
There are several things we recommend on the day of installation:
Remove any valuable artwork, photographs, or items hanging on the wall so that they do not fall.  We will be hammering on your roof and although we have never had it happen, there is always the possibility something could vibrate and fall.
Remove vehicles from driveway so crews can access the roof.  If you will need to leave during the day, remove vehicles from garage.
You may wish to remove any nervous pets that might be overly affected by the noise of construction.  Please place pets indoors.
Turn off any burglar alarms as the vibrations may trigger it.
Do not water yard the night before installation.
Please be aware that during construction there will be nails and debris falling from roof so be very careful if going outside.  Please request assistance going into/or out of your residence during construction.
How long does it take to get the 2nd check from the insurance company?
Typical time to receive the second check from you insurance can vary but usually arrives within seven days after they receive our invoice.
What if you find damage to my residential roof decking when you are removng the shingles or roof surface?
If rot or damage is found, we must replace damaged decking as nails will not hold if the decking is damaged.  Roof material manufacturers will not warranty material if decking is not structurally sound.  Our crews are trained to look for damaged decking.
Why is it important to work with a local roofing/construction company?
So often, when a storm hits a community or neighborhood, roofers from all over the country come to seek business.  Our experience is that if you find you have a warranty issue or problem with your roof installation or new construction it is very difficult to get out-of-state roofers or contractors to return and repair/replace the issue.
Do you install composite shingles with nails or staples?
At L and M Roofing, we always use nails as recommended by the manufacturer to provide the best protection against wind damage to shingles.  In addition, our crews know where to nail a shingle per manufacture's specifications.  Many roofing companies do not install shingles correctly and this leads to wind damage due to improper installation.  Our crews use nail guns which are calibrated to give a very consistent depth time after time.  This is much more consistent than hand nailing a shingle.
Will you clean up after my residential roof replacement is completed?
We take a lot of pride in leaving your residence in as good or better a condition as when our project began.  Typical clean-up includes blowing off the roof, sidewalks, patios, decks, porches, and driveways; we clean out all gutters; we roll the yard and landscaping with magnetic rollers; tarps are placed around entire roof perimeter (where feasible) to protect landscaping and capture falling debris; and all debris will be hauled away on day of project completion.
FAQ'S DIDN'T ANSWER YOUR QUESTION?
Here are other ways to get answers to your quesions
Click on the icon to go to our
Contact Form
Austin – 512.797.7852
San Antonio – 210.392.5202